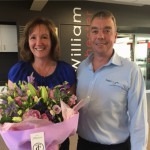 ​Mrs ​Alanna ​Young ​will be standing down​ as Board Chair​ this year and ​wishes ​to thank the Board and community for their support over 8 years of service. ​Alanna​ has ​thoroughly ​enjoyed working on the Board of Trustees and for the school​​ – supporting the school's ​vision​ "​Growing Greatness through ​innovative, ​constantly evolving​ and personalised learning"​.
Alanna was co-opted as a parent representative onto the Establishment Board of Mission Heights Junior College in 2008, a year prior to its opening in 2009. In 2010, she was elected as Board Chairperson and continued in that capacity until ​the ​beginning of this year. ​Mr ​Blair Telfer has now been elected as Board Chairperson, to aid succession planning with the Triennial Board Elections coming up shortly.
Mission Heights Junior College is ​certainly ​a better place due to the strong leadership and support Alanna has given the school​.