Our four Whānau, or schools within a school are central to everything we do at MHJC. They operate as physically independent learning communities of approximately 200 students and 12 staff,  led by two experienced senior leaders. This model promotes collaborative teaching and learning, close monitoring, tracking and support of students and healthy participation in community activities. Students are allocated to a Whānau on entry to the school and will almost always remain a part of that community. Staff may be moved between Whānau where timetabling needs dictate.
Each of our Whanau represent the physical features and beauty of  New Zealand/Aotearoa – Coast (Takutai), Forest (Ngahere), Water (Wai) and Mountains (Maunga). These are represented in our logo by the 4 coloured koru, gold, green, blue and white.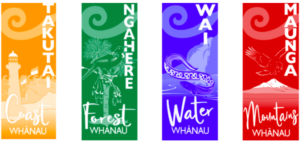 Teachers usually teach classes within one Whānau and will be aligned with a Whānau for activities, competitions and events. Students and staff both enter into the spirit of the Whānau community which provides a strong sense of fun, pride and belonging. Leadership and other opportunities are seamlessly provided within the Whānau as is the four year transition of students from primary to senior secondary school.