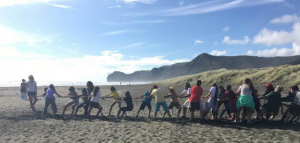 On the 16th March Year 7 students from Water Whanau set off on an exciting camp with twenty Year 10 leaders. Day one started with a splash as students participated in a day of water safety fun at the Massey Park Pools, Papakura. Students capsized out of boats, learned life-saving and floatation techniques and experienced the currents of the lazy river. At the end of the rotation cycle students particularly enjoyed some free time in the wave pool.
Campers then jumped back on the bus and continued the long journey to Piha. After many sing-alongs students finally arrived at Piha Mill Camp and were placed into 'tribes' for the next three days. The competition between the six tribes was evident from the beginning. After a fun afternoon participating in different activities at Piha Beach students returned to camp for some dinner.
Thursday saw an early rise followed by a quick breakfast before heading off for an action-packed day of camp activities. Students all participated in archery ("Mockingjay"), camp cooking ("MasterChef"), problem solving, the Amazing Race and hiking to the beautiful Kitekite Falls. Throughout these activities students had the chance to earn points for their tribe, as well as earning "camp money" from the Year 10 leaders.
The camp show was next on the list. Students all showcased a variety of talents, including magic card tricks, singing, extreme make-overs and  even a performance by the teachers! It was a fun-filled night, during which the "winning tribe" was announced. Congratulations to the Green Tribe who took out Water Camp 2016. It was fantastic to see such strong relationships grow between Year 7 and Year 10 students throughout the camp.

Thank you to Mr Field-Mitchell and Miss Young for organising the camp and to all students who made Water's Camp 2016 such an awesome and memorable experience!