Gamify your Classroom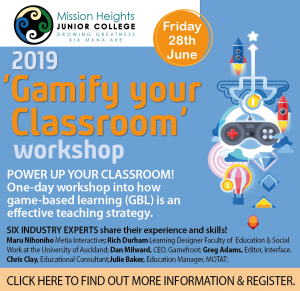 Industry experts will share research that backs playful and game-based learning and the increasing interest in eSports.  Award-winning games Maori games Guardian, an adventure game about Maori settlement and heritage, and SPARX, an interactive game based on cognitive behavioural therapy, designed to help young rangatahi manage their depression, will also be showcased.
Participants will have an opportunity to engage with both digital and non-digital games that they can use upon their return to the classroom.
Teachers include:
Mark Snoad

, Ormiston Senior College

Ollie Baker

, Stonefields School

Kate Lambert

, Mission Heights Junior College

Tyne Crow

, Pakauranga College (currently undertaking a Professional Teaching Fellowship at the University of Auckland)
Industry experts include:
Maru Nihoniho

, Managing Director, Metia Interactive

Rich Durham

, Learning Designer with the Faculty of Education and Social Work at the University of Auckland

Dan Milward

, CEO, Gamefroot

Chris Clay

, Educational Consultant and Director of Futures Thinking, Diocesan School for Girls

Julie Baker

, Education Manager, MOTAT

Greg Adams

, Editor, Interface
Book now for the Gamify your Classroom Workshop. 
When: Friday, 28 June, 8:00 am – 3:30 pm
Where: Mission Heights Junior College, 103 Jeffs Road, Mission Heights, Manukau, Auckland
Cost:  $99/person, includes lunch and morning tea.
Workshop Sessions:
Chris Clay – "Future of Gaming"
In this session we will explore the playful world of reverse archaeology. You will travel into the future and return with an artefact and a story to share with the room.
This session will illustrate the role of games and playfulness in opening up new possibilities for the future while also helping us become more aware of how we make sense of the present.
Maru Nihoniho – "Bringing Māori Culture To Video Games"
Two games that bring Māori culture and heritage to the forefront will be highlighted in this session. Guardian and SPARX, are powerful and award-winning games developed by NZ based company, Metia Interactive. Maru will discuss her inspiration in developing the games, their global success, and how they can be used by teachers.
Richard Durham – "Making Playful Learning"
For those who attended last year's Games for Learning day, this is the second part of "game fit for purpose" workshop. Participants will establish a working vocabulary of playfulness/engagement to apply to your activities. Participants will work through modifying a formative assessment together to familiarise themselves with the planning instrument, and finally discuss with peers on how to apply them to their own activities.
Julie Baker – "Playing Games @ MOTAT"
Participants will dive into MOTAT's extensive collection of historical games (revisit your childhood memories of knucklebones, elastics, marbles and more) to identify game elements and mechanics. We use some of our collection of retro digital games (Sonic the Hedgehog and Buzz) to showcase aspects of technological change in digital gaming and then you get hands on with a digital game development resource which will have you coding a simple digital game in minutes.
Dan Milward – "Introducing Game Dev Clubs"
Gamefroot is levelling up digital technologies for your classroom this year by combining both code and culture in a new 90 minute game design workshop. Attendees will develop a game set in New Zealand and code some familiar characters including a young Kupe and the ghost of Captain Cook.
Attendees will leave the workshop prepared to take code into their classroom in a culturally inclusive and New Zealand kind of way. We will show you a way to integrate game design with local stories and inquiry in your classroom.
Greg Adams – "Discussing eSports in Schools"
Participate in a roundtable discussion about how your school is running eSports and what barriers there may be.  Hear the information Greg at Interface he has collected to date and what next steps may be for your school.