Four MHJC students have been selected for an official Ricki Herbert Football Academy International tour. The boys will travel to China on August 8th as part of the U14 squad, taking part in the Gothia Cup.
The Gothia Cup was first held in 1975. Over a million players from a total of 143 countries have participated in the tournament. In 2007, FIFA named it the "World Youth Cup" and it aims to create a meeting place for the young players of the world no matter religion, colour or nationality.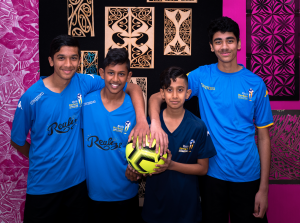 From left: Abhinay Kumar, Arnav Naiker, Saurav Chand, Zain Ismail.