We extend a warm welcome to the following new teachers and support staff: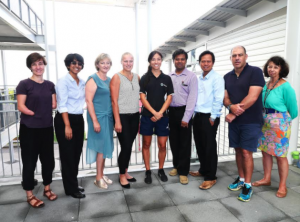 Pictured from Left: Tess,  Ayesha,  Lesley,  Laetitia,  Sonia,  Wyn, Razak,  Dino  &  Patricia.
(Adora & Elise absent)
Teachers:
Tess Connell is a beginning teacher in Forest Whanau who teaches Global Studies. Tess studied Psychology and Sociology at the University of Auckland. She loves tramping, painting landscapes and travelling (she once travelled the length of India!)
Wyn Morris is an experienced teacher from Remuera Intermediate School who has joined Mountains Whanau teaching Mathematics and Science. Wyn has  twin girls and loves the outdoors, camping, gardening and horticulture.
Sonia Lovemore is a second year teacher who specialises in Health and Physical Education, joining Mountains Whanau this year. She has a passion for and is an accomplished football and touch rugby player and loves animals.
Dino Gardi brings a wealth of experience in Outdoor Education having run successful programmes at Edgewater College, Alfriston College and Tangaroa College. He is teaching Global Studies and Health and PE in Forest Whanau so he can share his passion for the environment with his students in two learning areas.
Lesley Williamson is teaching Science in Water Whanau as a new career move after starting and developing the very successful "Littlies" company which provided parenting advice to thousands of subscribers. This passion to help others has found expression in teaching, a lifelong dream of hers.
Adora Lindsay teaches Maths and Science in Coast Whanau and has valuable experience of successfully leading a collaborative team of teachers at Alfriston College. She is keen to contribute to the collegial, cross curricular approach we promote at MHJC. 
Patricia Zwarts is relieving for Priscilla Naidoo in term 1 as Ms Naidoo completes her Masters degree. She is an experienced teacher of Domestic Science and loves gardening.
Support Staff:
Laetitia Jansen Van Rensburg is our new Sports Assistant and a qualified fitness instructor. She has a degree in Sports Management and a passion for all sports, particularly netball which she plays at a high level.
Razak Shukor has joined us our IT assistant. He has excellent qualifications and experience in the IT field specialising in systems and operations management.
To cope with the extra volume of work in the library as the two schools grow, a Library Assistant has been employed. Elise de Silva is passionate about books and reading and also is experienced in multi-tasking – a key requirement in this busy role.
Ayesha Kumar joined us in term 4 last year as our Science laboratory Technician. Originally from Singapore she completed her B.Sc in Biological Science at the University of Auckland.